Search Engine Marketing in Dubai(SEM)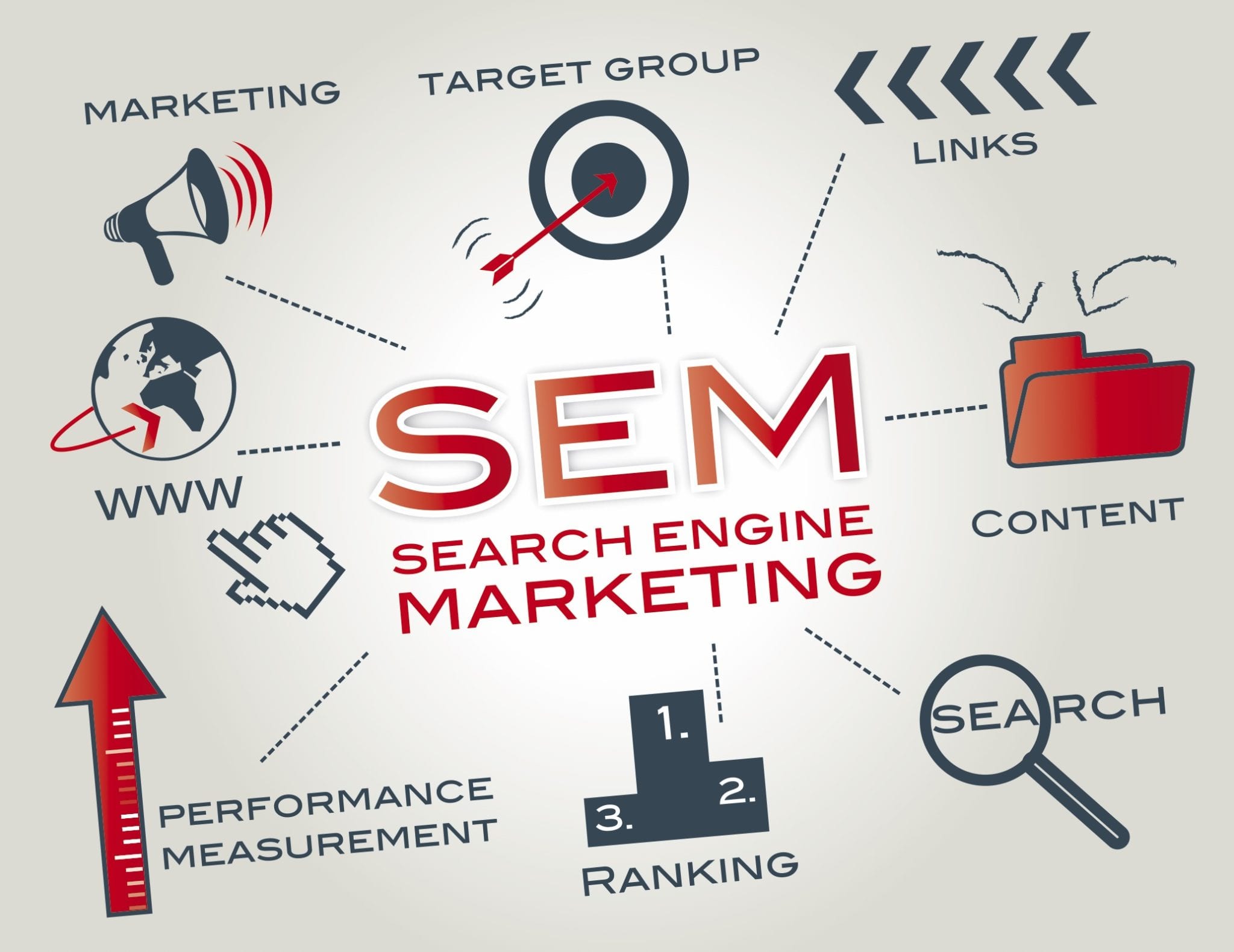 Search Engine Marketing (SEM) is the process of gaining market online by purchasing Ads on search engines, say Google, Yahoo, or Bing. SEM involves the promotion of websites by increasing their visibility in Search Engine Result Page (SERP).
Search Engines
The search engines use algorithms to provide the most relevant results to every user. For producing best suggestions to the users' queries, they consider not only the search keywords entered by users but also users' location, type of device and operating system they are working on, users' preferences, and their identities.
The better the search algorithm is, the happier the user is with its results.
Search Marketing Approaches
Search marketing works with two approaches −
Earning traffic through unpaid or free search listings (SEO Methods)
Buying traffic through paid search listings (PPC Ads)
Steps Involved in Search Engine Marketing
These are the general steps involved in search engine marketing −
Step 1 − Define Effective Strategy

Define your target audience.
Identify their needs and motivations.
Highlight how your product is best to serve their needs.
Review your business position in the marketplace.
Identify your competitors.
Identify your specific goals and benchmarks, such as search ranking, sales, website traffic, and other ROI metrics.
Step 2 − Choose Right Keywords

Select most important phrases relevant to your business
Also select the phrases that are frequently searched by your target customers.
Conduct brainstorm sessions for potential terms your customers use when thinking about your products and capabilities.
Interact with your sales and customer service teams, and best customers to know the frequently used phrases.
Employ a keyword research tools to compile a list of highly searched terms.
Step 3 − Optimize Your Website Content

Focus on your website structure. Keep it simple.
The search engines looks for the underlying code of your website when they visit your website.
Create crisp, clear, and correct content that can retain users' attention.
Use your keyword phrases relevantly in pages title tags, heading tags, directory names, file names, alt tags and meta tags.
Pay attention to meta description. It is shown in the search results below your link, providing a great opportunity for you to bring visitors to your Website.
Step 4 − Submit Your Website for Indexing

To be visible online to the customers, ensure that all the pages of your website are completely indexed by the search engines such as Google, Yahoo, and Bing.
For speedy process of getting indexed by the other engines, submit your website to the DMOZ.org, an Open Directory Project. Once DMOZ accepts your website, Yahoo and other search engines have no problem indexing your website.
Step 5 − Add Quality Links to Your Website

Build links to your website from valued links of other websites that are frequented by your targeted visitors.
The more quality inbound links you have, the more popular your website is with Google and other engines.
Make your website content is link-worthy. Create interesting and informative content on your website such as a library of best practices articles, blog trends in your industry, etc.
You can also garner links from vendors, customers, business partners, and trade associations.
Distribute press releases and articles online.
Step 6 − Manage Paid Search Advertise

Bid on the most relevant keywords. Do not pick them based on only popularity.
Make sure your product offer is interesting to the potential customer.
Tie the bidding strategy to business results. In many cases a lower Ad position will produce a higher ROI.
Finally, include a compelling 'call to action' in the Ad and send traffic to a relevant landing page tied to the Ad.
Step 7 − Measure Success of Advertise

Check how well you performed in the past.
Measure CPC, CPR, Clicks, Bounce rate, Impressions, ROI, etc.
Employ Web Analytics to monitor progress and problems.
Monitor your position regularly in the search results.
Identify problems and plan strategies to improve your results in the future.

Contact Us

Please feel free to contact us at (971) 555-172-260 or via e-mail info@Webworld.ae to find out more information on above promotion.